Hardwire Kit for Dash Cam Smart Parking Mode Activation
* We recommend that you contact a Professional Installer for the installation of this kit.

NOTE: After installation please ensure you start your engine. Otherwise your dash cam may remain in in sleep mode (smart parking), due to battery condition.
Optional Accessory for:
DRV-A601W
,
DRV-A501W
,
DRV-A301W
,
DRV-A201
&
DRV-A100

There is nothing worse than parking your car and going shopping, only to find when you return that someone has damaged your vehicle and left the scene without leaving a message!
When installed, the hardwire kit adds Smart Parking Mode. Then, when your car is parked with the ignition turned off, the Smart Parking Mode becomes active, shutting down everything except the G-Sensor to save power. If your vehicle is then subjected to physical impact, your dash cam stores the footage leading up to, and after the incident takes place. If the G-sensor detects further impacts, during this recording it will extend the recording time by a further 30 seconds until there are no more vibrations. The dash cam will then return to sleep mode (Smart Parking Mode).


Active Smart Parking Mode and no more messy cables cluttering your dashboard with the hardwire kit.
This kit comes with a 4-meter-long power cable which can be discretely tucked behind the dashboard, into the A pillar and headliner of your vehicle giving you a permanent power supply to your dashcam.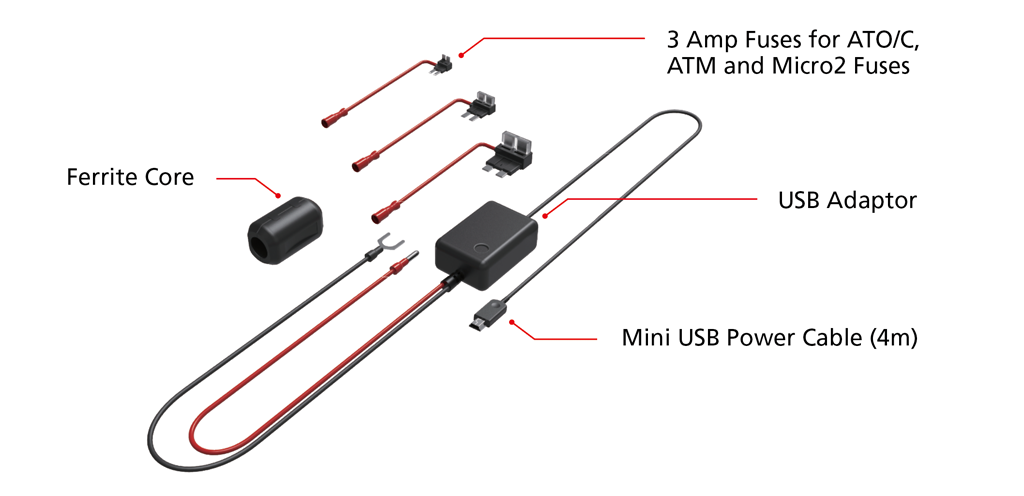 Supplied with 3 different sizes of fuse-holder for simple connection to most fuse boards.
* We recommend that you contact a Professional Installer for the installation of this kit.


3-Axis G-Sensor & GPS Receiver
NOTE: GPS Receiver not available on the DRV-A100.
The built-in 3-axis G-Sensor with adjustable sensitivity can detect unusual impacts to your vehicle and automatically stores the video footage, time, speed and location. This footage is then moved into a locked folder so it cannot be overwritten. The locked folder can be viewed at a later time, via the desktop software or smartphone app. Stored G-Sensor data could prove useful to prove how significant any impact was, in order to combat against fraudulent claims.
The location, date and time of any incident is vital as it can prove exactly when and where it has occurred, removing the need to write down everything shortly after an upsetting event. Your vehicle speed will also be recorded and shown on the video playback. In fact, GPS satellite information can often be more accurate than the vehicle's speedometer. When traveling abroad GPS will automatically adjust the time recorded to the current time zone.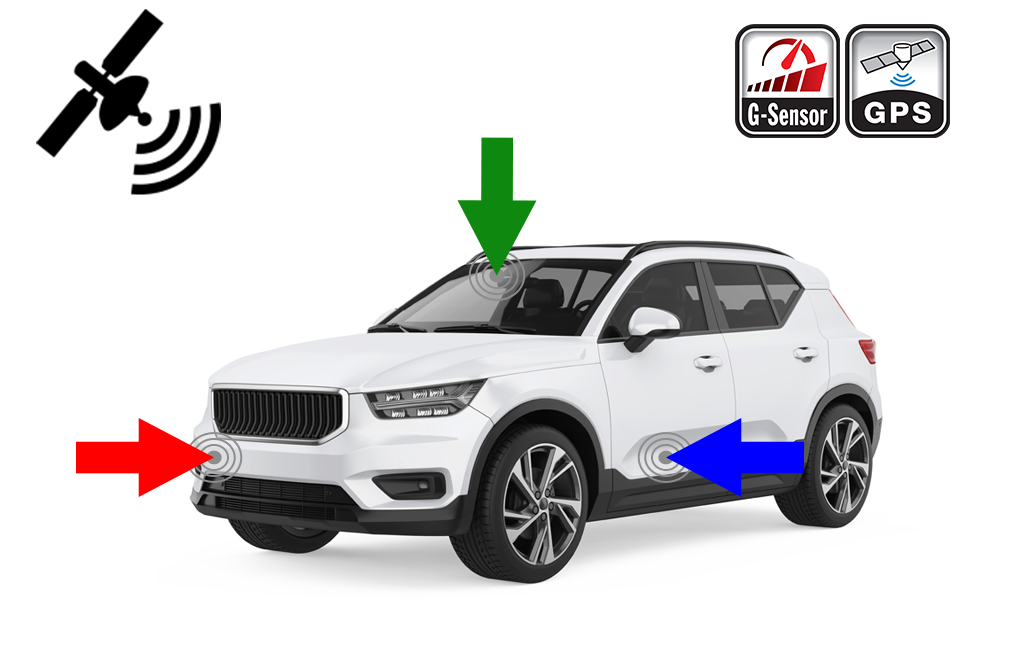 Want to find out about other features?