KCA-R100 Rear Window Camera
(Compatible with front dash cam DRV-A501W or DRV-700W) for dual recording (front & back)

Full HD Recording 1920 x 1080p - 2 Megapixel
The KCA-R100 captures Full HD video at 30fps (frames per second), making it possible to record and playback in greater detail, including car license plate numbers and road signs.
*Please note connecting an optional rear view window camera will reduce the recording resolution of the DRV-A501W or DRV-A700W front dash cams.

180° Rotational Lens
The 180° rotational lens gives you total flexibility and provides an optimum view from various angles of the rear window.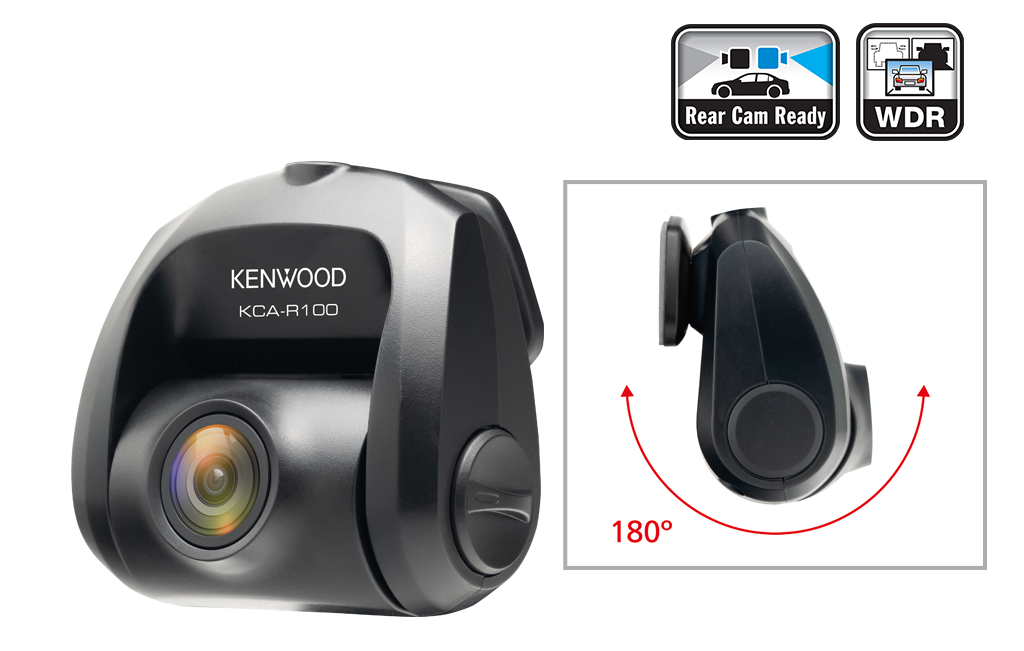 161° Ultra-Wide View
Features a wide-viewing angle lens with a horizontal angle of 129º, vertical angle of 66º, and diagonal angle of 161º. The recording range at the rear of the car expands in all directions to ensure nothing escapes the footage.

Watch the video clip below to see the front and rear dash cam recordings
Key Features 
Compatible with the DRV-A501W & DRV-A700W front dash cams
Full HD Recording Resolution (1920 x 1080p @ 30fps)
1/2.8 CMOS sensor
F2.0 Fixed focus lens
161° Diagonal field of view
Wide Dynamic Range (WDR) mode
180° Adjustable lens angle
Adhesive mount
Camera Features
| | |
| --- | --- |
| Camera Type | 1/2.8" colour CMOS sensor |
| Mounting system | Fix mount base |
| Installation positions | Normal / Up-side down |
| Horizontal Angle view | +/- 129° |
| Vertical Angle View | +/- 66° |
| Video signal format | H.264 / MOV |
| Audio Format | Linear PCM |
| Connection cable (DC+video) | 8 m |
General Specifications
| | |
| --- | --- |
| Operating voltage | 5V (5 ~ 5V Allowable) |
| Maximum Current Consumption | 110A |
| Dimensions (WxHxD) | 63 x 66 x 36mmn |
| Weight | 334 g |
What's in the Box
| | |
| --- | --- |
| Mini USB connection cable | 800 cm (8 meters) |
| Adhesive tape pad | 2 pieces |