Customer Reviews
Write a Review
Ask a Question
24/09/2020
Helen J.
United Kingdom
I recommend this product
perfect
A fantastic Dash Cam so easy to set up done in a few minutes. even to wifi it to my mobile phone. Just need to get the hard wire kit and someone to set it up for me, then no more trailing cables.
04/09/2020
Christoher B.
United Kingdom
I recommend this product
DRV-A501W Wide Quad HD Dash Cam & KCA-R100 Rear View Camera
What a Great bit of kit so easy to install only took about 30 minutes in total. Dash Cam et up really easy play back really clear , i am purchasing a larger sim as i leave it on overnight we have issues in the road where i live. Only one little thing that could be looked into cable from rear camera has to go into the top of the Dash cam shame it was not connected to the Dash cam mount like the front camera would save having to pull out when you remove the dash cam . This Dash cam get the thumbs up from me PLUS great price.
19/08/2020
Anonymous
United Kingdom
I recommend this product
Excellent quality
Very pleased with product quality and value for money.
06/08/2020
Anonymous
United Kingdom
I recommend this product
Mr pollard
very good product got it for my kia sportage happy with the quality told family and friends about this your product
30/07/2020
michael h.
United Kingdom
I recommend this product
Dash cam
It is a better one than the one I had in it a bit more clearer than the other one
24/07/2020
Tony K.
United Kingdom
I recommend this product
Kenwood Dash Cam
Easy to install and even easier to use. Our car was recently hit whilst parked and the driver didn't leave any details. Having a camera ready to switch on will save you the headache of dealing with insurers should someone crash into your pride and joy.
23/07/2020
Moh
United Kingdom
I recommend this product
DRV A501W
Absolutely amazed by the camera. Excelled expectations. Footage quality is phenomenal. Polar lense makes a big difference. All cables are good thick cables. User interface is good and the app is fantastic. Rear camera is same as front camera no loss in detail. GPS is also very accurate. Map of footage is handy. Much better then Nextbase. 100% recommended.
18/07/2020
Anonymous
United Kingdom
I recommend this product
Dash Cam is excellent
Going to buy another one
06/07/2020
Gary R.
United Kingdom
I recommend this product
KCA-R100 - Full HD Rear Camera - Only Compatible with DRV-A501W dash cam
I purchased this rear camera as I had just purchased the DRV-A501W dash cam. It was only compatible with this particular dash cam, and I wanted both front and back coverage of my car. I didn't see the point in covering just the front of my vehicles when all the accidents I have been involved in have been a result of someone hitting me from behind. Set up was again very simple. It was just a matter of setting the camera in the right place on my back window. Easily attached by 3M tape, then feeding the 8 metre wire which was plenty to reach the front of the car. I hid all the wiring behind panels which were easy to maneuver of remove and reattach. I assume different car types will vary but I have a Vauxhall Insignia. I just plugged the wire into the dash cam and that's it. Power comes from the wire which powers the dash cam so no extra power cables. The picture of the rear camera overlaps the front camera on the screen which is slightly annoying at first, but I don't drive the car looking at the screen of my dash cam. I did speak Kenwood to customer services and this this is something which they are looking to fix, even if there was a function to swap the screens around if required. After a week of use now I don't even think about it. The camera does exactly what it is meant to do and thats to record whats behind me. The picture quality is amazing. Just the same as the front dash cam. If your going to buy the front dash cam you would be wise to buy this to complete the set and full coverage of your car.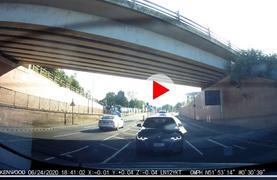 06/07/2020
Gary R.
United Kingdom
I recommend this product
DRV-A501W Dash Cam
So I have been looking to purchase a dashcam for a while now, but I was in two minds if they were worth getting or not or ultimately would I end up not using it and it just becomes a glove compartment filler. So I did a bit of research and found that getting a dashcam is now becoming so nessessary. So many insurance claims are not being paid out as there is just not enough evidence and you loose out having to pay the excess fee, even though in some cases, it is obvious that there is only one person at fault. So rule one, cover yourself! I came across the Kenwood drva501w dashcam. It caught my eye for a number of reasons. 1. Kenwood made 2. HD 1080p resolution. 3. Wireless link to a smart device. 4. GPS installed 5. Turns on when your car is in use. 6. It comes with a free 16GB memory card. These are just a few of the highlights. Needless to say, I bought the dashcam. I am one of those gadget geeks who like the full package, so to complete my purchase I noticed that this particular dashcam could connect to a rear camera. So I bought the rear and I now have coverage of both front and back of my car. I'm covered! Installation was pretty straight forward. Just plug into a 12v port, easy set up and off we go. If you got basic knowledge on how to hide wires, this will be very simple. I managed to work round panels and you can't see anything apart from the wire which goes to the dashcam. After a few days, I forgot the dash cam was even in the car. I positioned it just behind the rear view mirror as advised, it turns on and off automatically and starts recording straight away. No hassles or setup every time I get in the car. You can set different recording time sequences. After using it for a week, its probably best to set a shorter recording time as it will take less time to upload to your mobile via the wireless function if you choose to upload that way. The quality of the video is amazing. It truly is full HD! I have had a number close calls with white van men or lorries pulling out in front of me already in the last week, so using the footage to prove my innocence if needed to would be easy as the footage is crystal clear. Overall, this is a great product and I would really advise someone who is looking to purchase a dash cam to choose this model or something similar within the Kenwood range. If this dash cam is as good as I found it to be, I would really be interested in the 4k model.